When using Hubspot as your marketing top end and Salesforce as your sales pipeline and customer management platform there can be issues sometimes with how the 2 systems are integrated and fine details that get missed when aligning the 2 platforms. A basic audit can be run to review how the 2 systems talk to each other and how your sales stages are mapped to each other.
Here is a quick list of checks we go through to make sure we can trust the data and reporting.
Map sales stages in Salesforce to Lifecycle stages in Hubspot
Take the time to talk to your sales leaders. If you are using salesforce you need to know what stages you need to pass your leads into. Most companies you something similar to MEL ( Marketing Engaged Leads ) and MQL ( Marketing Qualified Leads ). In HubSpot, with some companies, we align the stage Leads in Hubspot to the salesforce stages MEL and the Hubspot stage Marketing Qualified Beads to salesforce stages MQL.
Check for any Salesforce integration issues
There is a handy reporting tool built into HubSpot that lets you know if there are issues with your salesforce connections. Remember connecting HubSpot fields to salesforce fields you need to select the same type of fields to connect. text fields to text fields and dropdowns to dropdowns. Also, pay attention to how you choose for the fields to connect. Two-way is most of the time the basic choice for fields think of it when you get a lead it pushes to salesforce and if it is updated in salesforce the information passes back to HubSpot as an update.
Review HubSpot Salesforce sync and mapping
To get to this section of your HubSpot instance first log in then in the top right corner you will see a gear icon.

Once you click the gear icon you will be in the settings page. On the left-hand side look for the section integrations and click to expand the list and click on connected apps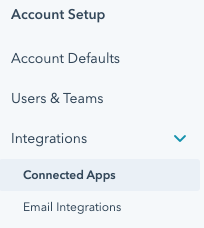 If your Salesforce is connected you will see it in the list of connected apps on the right-hand side. By clicking on the salesforce connected app you will be taken to your connection settings. Here you can review how everything is connected and if there is any issues.
If you need help and are having issues let's chat we do this all day every day.